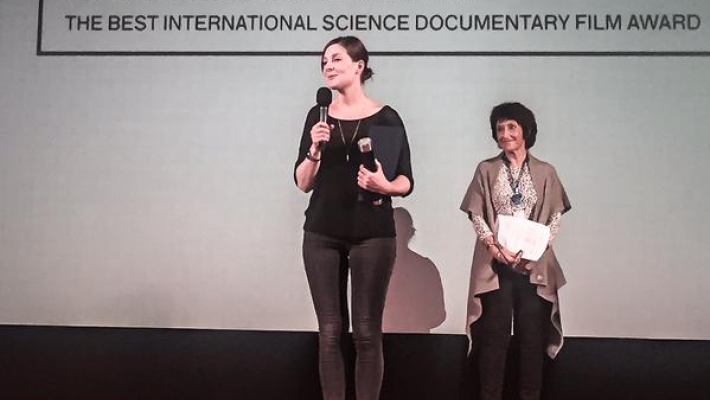 18 April 2015 - 'The Joy of Logic' won the top prize - Best International Film - at Europe's leading Science Film Festival, AFO in Olomouc. Producer/Director Cat Gale and Executive Producer Archie Baron were in the beautiful and ancient University city in the East of the Czech Republic to accept the award. They also gave a lecture there on 'The Joy of Infographics'.
Making the award, live on Czech TV, jury Chair Alison Leigh gave the following citation:
This year we have been presented with a remarkable diversity of films, some that presented ground breaking science for the first time, others highlighting important environmental and health issues - and some that offered sheer technical brilliance. It is an absolute privilege to be given the opportunity to watch such a diversity of clever science films... AFO's mission is to encourage the popularization of science by awarding films that educate in an entertaining way - films that inspire and encourage people to seek answers.
So how did we choose our winner from such a rich selection? What are we looking for? We needed our winnign film to tick a number of boxes: Is the science accurate? Is it relevant to everyday life? tick, tick. How about the story telling? Is it telling us something new or explaining in a way we haven't heard before? Making us want to go away and learn more afterwards...?
Is there a story arc? Is it written well? Is it creative? Is it innovative? Is there emotion? Is it entertaining... does it keep us hooked? Our winner ticks all these boxes ... in spades.
In these days of fragmented TV channels, and the plethora of screens - if a film hasn't hooked you in 2 minutes - it's lost to you ... our winner manages in precisely 45 seconds ... to set up the tone, tell us what the subject is about and why its important and ... it makes us laugh.
It concerns a top which we haven't seen tackled before in a film - a fundamental, abstract and complex topic that's hugely difficult to explain let alone visualise, and this, it manages to do .. from playful visual demos to sublte evocation of the deep historical roots of the subject, to showing how it underlies the technology that we interact with every day - it makes the topic utterly accessible through being lighthearted without being frivolous. And then there's the music... Music can make or break a film, this film uses music to signal that you can enjoy the sequences, evn if you don't understand them ... and allows you not to feel depressed if you don't! Very clever!
Any film that celebrates the frontiers of what we know and can't know is a precious commodity. Any film brave enough to tackle that, and pullit off, without taking itself too seriously is the height of achievement; Ladies and gentlemen, I give you The Joy of LOGIC!
Alison Leigh, Olomouc 2015