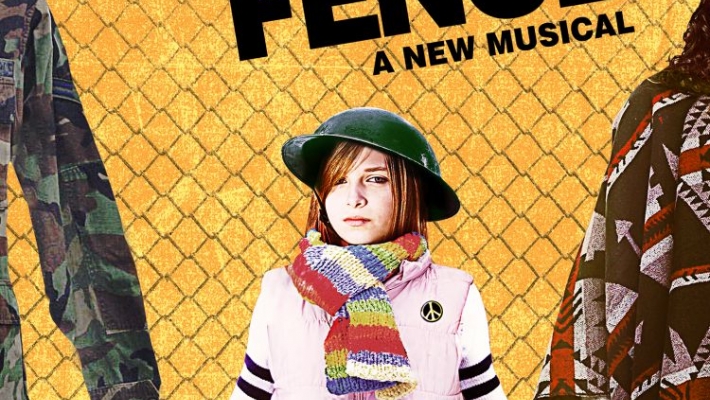 2016. The computer revolution. In a world becoming ever more technologically advanced, and reliant upon computers, machine learning and artificial intelligence are rapidly and fundamentally changing every aspect of human experience. But how does technology affect art and the creative process?

In a world first, Sky Arts and Wingspan Theatricals will explore this question by presenting the premiere of the world's first 'computer musical'. Beyond the Fence will play at the Arts Theatre in London's West End from 22 February – 5 March 2016, directed by Luke Sheppard, choreographed by Cressida Carre and produced by Neil Laidlaw. Press Night is Friday 26 February, 7pm.
Beyond the Fence is conceived by computer and substantially crafted by computer. It is modelled on a statistical study of the 'recipe for success' in hit musicals. This ground-breaking process is being filmed for a Sky Arts TV series titled 'Computer Says Show', chronicling this unique experiment (to be broadcast in spring 2016). In collaboration with leading experts in music, computation and the science of human creativity, composer Benjamin Till and his husband, writer and actor, Nathan Taylor, the award winning team behind 'Our Gay Wedding: The Musical' (Channel 4), will bring a whole range of computer-generated material to life, presiding over the creation of an emotionally powerful and exciting West End show which is at the same time the grandest of experiments. That experiment has been designed and co-ordinated by Dr Catherine Gale, who also produces and directs the series.

'Computer Says Show' affirms Sky Arts commitment to investing in ambitious new arts ventures. In April 2015, Sky Arts moved up the electronic programme guide (EPG), where it consolidated into a single 'super channel,' and increased its overall programming budget by 10%.

"This is a fascinating project that we're extremely proud to be a part of. At Sky Arts, we're always excited by innovation and this venture offers an intriguing glimpse into how technology is changing music evolution. Can an algorithm create music with all the humanity, emotion and drama that a person can bring? This question captivates us. We cannot wait to see the result."
Phil Edgar-Jones, Director of Sky Arts
"The original idea for this project – could computers write a hit musical - came about as 'an improbable mash-up between two of our recent award-winning shows, 'Our Gay Wedding-The Musical' (Channel 4) and 'The Joy of Logic' (BBC4)."
Archie Baron, Creative Director, Wingspan Productions
Beyond the Fence started as an experiment, with researchers delving into what makes a good musical, from production and story to music and lyrics. Scientists used their findings to fine-tune computational systems which would in turn create brand new musical material. The question is: can these computer algorithms create something collaboratively with humans that can entertain, touch or inspire them? We'll only know once the show, designed to deliver the optimum elements for a success, opens as part of this challenging and magnificent new production.
The show
September 1982. Mary and her daughter George are celebrating one year of living at the Greenham Common peace camp. The group of women they have joined are all committed to stopping the arrival of US cruise missiles through non-violent protest. When Mary is faced with losing her child to the authorities, an unlikely ally is found in US Airman Jim Meadow. How can she continue to do what is best for her daughter while staying true to her ideals? Beyond the Fence is a powerful new musical about hope, defiance, unity and love.
The science
The process began with a predictive, big data analysis of success in musical theatre, conducted by Dr James Robert Lloyd, Dr Alex Davies and Prof Sir David Spiegelhalter (Cambridge University). They interrogated everything from cast size, to backdrop, emotional structure to the importance of someone falling love, dying (or both!) – in more and less successful shows – to create a set of constraints to which the musical had to conform, to theoretically optimise chances of success.
Next, the team visited what's known as the What-If Machine at Goldsmiths, University of London. With Prof Simon Colton, Dr Maria Teresa Llano and Dr Rose Hepworth at the helm, the machine generated multiple central premises, featuring key characters, for the new show. The team selected this as the starting point and the original idea for the musical:

What if a wounded soldier had to learn how to understand a child in order to find true love?

A plot structure for the musical was also generated computationally, thanks to work led by Dr Pablo Gervás (Complutense University of Madrid). A brand new analysis of musical theatre narratives enabled him to adapt an existing story telling computer system, called PropperWryter, to turn its hand to musicals and build the core narrative arc of the new show.
Taken together, all of the above enabled the precinct for the emerging story to be identified: Greenham Common. The team then wrote a book and lyrics (with the assistance of some other computational tools) that fitted all these constraints.
Finally, the music material has been provided by Dr Nick Collins (Durham University), who has created a computer composition system he calls Android Lloyd Webber based on a machine listening analysis of musical theatre music, conducted by Dr Bob Sturm (QMUL) and Dr Tillman Weyde (City University). Additional computer music material will be generated using the FlowComposer system created by Dr Pierre Roy and Dr Francois Pachet (SonyCSL, Paris).

The team

Nathan Taylor has appeared in many West End shows including 'Mary Poppins', 'Spamalot', 'Taboo', 'Miss Saigon', 'Martin Guerre', 'The Rocky Horror Show', 'Hedwig and the Angry Inch' and 'Les Misérables'. As a writer, Nathan supplied additional lyrics for the musical 'Brass', by Benjamin Till, he wrote the lyrics for Four Colours, an EP released to support the work of the Kaleidoscope Trust, and most recently was nominated for a BAFTA for co-writing music and lyrics for 'Our Gay Wedding: The Musical' (Channel 4), in which he also got married, to Benjamin Till.

Benjamin Till has had a twenty-year career focused on pioneering the genre of the through-sung musical film documentary. His TV films have been nominated for and won many major awards including Griersons, RTS and Broadcast Awards. Films include 'A1: The Road Musical' (Channel 4), 'A Symphony for Yorkshire' (BBC), '100 Faces' (BBC), 'Tyne and Wear Metro: The Musical' (BBC) 'Coventry Market: The Musical' (BBC), 'Songs from Hattersley' (BBC). He is the composer of The London Requiem (a setting of inscriptions from gravestones found across London) and is his most recent stage musical, Brass, won the UK Theatre Award for Best Musical Production. CD recordings include The London Requiem and the forthcoming Pepys Motet (a 20-part acapella setting of Samuel Pepys' Diary.) Benjamin and his husband Nathan Taylor were the grooms and writers of the BAFTA-nominated 'Our Gay Wedding: The Musical', which won a Grierson Award and the Prix Italia.

Luke Sheppard's most recent credits include 'In The Heights' (Kings Cross Theatre); 'Oliver!' (Watermill); 'Casa Valentina' (Southwark Playhouse) and 'The Secret Diary of Adrian Mole: Aged 13 ¾' (Curve Theatre).
Choreographer Cressida Carré's most recent credits include 'Titanic' (Princess of Wales Theatre, Toronto); Avenue Q (UK Tour); The Grand Tour (Finborough Theatre); The Jungle Book (Citizens Theatre, Glasgow).

Neil Laidlaw is one of the co-producers of 'Gypsy' (Savoy Theatre). His other recent productions include 'A Doll's House' (Duke or York's and BAM, New York), 'Jigsy' (UK Tour) and 'The Steamie' (Scottish Tour).

Dr Catherine Gale has credits in both academia (postdoctoral research fellowships in HIV genomics, bioinformatics and computational biomedicine) and television, working on science programmes for BBC2, 4, Channel 4 and PBS. Recent directing credits include the award-winning 'The Joy of Logic' (BBC) and 'The Brain – What Makes Me' (PBS).

Beyond the Fence was commissioned by Sky Arts as part of 'Computer Says Show ', a forthcoming television series by Wingspan Productions who devised this unique experiment.

Founded and headed by Archie Baron, factual indie Wingspan's recent award-winning productions include 'Our Gay Wedding-The Musical' (C4), 'The Joy of Stats', 'Don't Panic-The Truth about Population', 'The Joy of Logic' and 'Ian Hislop: When Bankers Were Good' (BBC). Musical productions range from 'The Great American Love Song' (ITV) to 'Angelic Voices: The Choristers of Salisbury Cathedral' (BBC).

Cast to be announced.

For more information please contact Andrew Greer, Target Live andrew.greer@target-live.co.uk / (0)203 372 0966 / www.target-live.co.uk

LISTINGS INFORMATION
Beyond The Fence
Venue: Arts Theatre, 6-7 Great Newport St, London WC2H 7JB
Dates: 22 February – 5 March 2016
Press Night: Friday 26 February, 7pm
Times: Mon – Sat, 7.30pm; plus Wed and Sat 2.30pm matinees (not Wed 24 February)
Tickets: £12.50 - £49.50
Booking: beyondthefencemusical.com / 020 7836 8463
Facebook: BeyondTheFenceTheMusical
Twitter: @BeyondTheFence_ #ComputerMusical

TRAILER: https://www.youtube.com/watch?v=VZzI4sfCFjc
NOTES TO EDITORS

Beyond the Fence

Director LUKE SHEPPARD; Choreographer CRESSIDA CARRE; Musical Supervisor PAUL HERBERT

Set and Costume Design TOM ROGERS; Lighting HOWARD HUDSON; Casting Director POLLY JERROLD; Producer NEIL LAIDLAW

Book by BENJAMIN TILL and NATHAN TAYLOR based on PROPPERWRYTER, a musical theatre Computational Plot Generation system created by Dr PABLO GERVÁS (Complutense University of Madrid). From an Original Idea generated by the WHAT-IF MACHINE as a result of the WHIM Project[1] (Prof SIMON COLTON, Dr MARIA TERESA LLANO and Dr ROSE HEPWORTH , Goldsmiths, University of London).

Music curated, composed and arranged by BENJAMIN TILL and NATHAN TAYLOR from Algorithmic Compositions by ANDROID LLOYD WEBBER, software developed by Dr NICK COLLINS (Durham University). Based on a Music Information Retrieval big data analysis of musical theatre works led by Dr BOB STURM (Centre for Digital Music, Queen Mary University of London) and Dr TILLMAN WEYDE and Dr DANIEL WOLFF (City University London). Additional Music generated using FLOWCOMPOSER, created by Dr PIERRE ROY and Dr FRANCOIS PACHET (Sony CSL, Paris).

Lyrics by BENJAMIN TILL and NATHAN TAYLOR with Additional Lyrics from THE CLOUD LYRICIST (a Recurrent Neural Network system trained by Dr JAMES ROBERT LLOYD and Dr ALEX DAVIES)

Book, Music and Lyrics Informed by Predictive Analytics and Big Data Statistical Analysis of success and failure in musical theatre by Dr JAMES ROBERT LLOYD, Dr ALEX DAVIES and Prof Sir DAVID SPIEGELHALTER, Cambridge University

Musical annotation data generated with the assistance of staff and students from Cambridge University, Goldsmiths, University of London and Guildford School of Acting, University of Surrey.

Experiment Designed and Co-ordinated by Dr CATHERINE GALE (Wingspan Productions).

Beyond The Fence was commissioned by SKY ARTS as part of 'Computer Says Show', a forthcoming television series chronicling this unique experiment devised and made by WINGSPAN PRODUCTIONS. Its development was supported by the WELLCOME TRUST.

Series Producer/ Director CATHERINE GALE
Head of Production LIL CRANFIELD
Executive Producer ARCHIE BARON
Commissioning Editor for Sky SIOBHAN MULHOLLAND
Sky Arts Channel Director PHIL EDGAR-JONES
---
[1] The research leading to the development of the What-If Machine has received funding from the European Community's Seventh Framework Programme FP7/2007-2013 under grant agreement n°611560