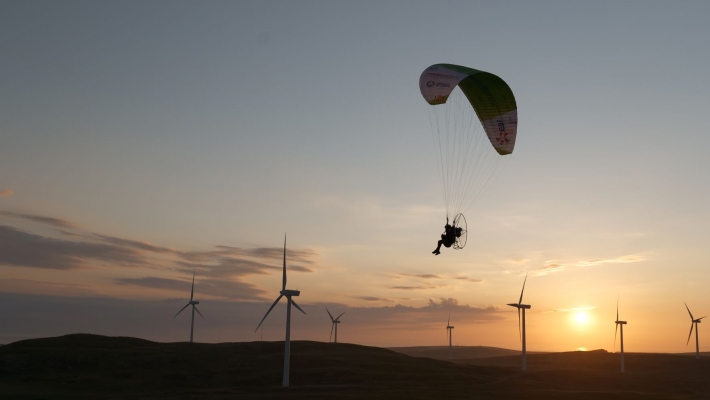 Two Wingspan films are set to feature prominently in ITV's Climate Action Week, timed to run from November 1

st

, at the same time as the COP26 talks in Glasgow. Both will receive their theatrical premieres at 'COPtimism', a pre-COP event in late October that will bring together the world's most purpose-driven industry leaders, brands, academics and environmentalists.
Joanna Lumley and The Human Swan follows Joanna as she sets out to track adventurer Sacha Dench, aka the 'Human Swan', on her green-powered paramotor flight around Britain's coast in search of climate change solutions. Together they encounter real threats alongside inspirational climate heroes.
A shocking tragedy late in the journey claims the life of support pilot Dan Burton and leaves Sacha Dench seriously injured. Dan's family and Sacha remain committed to the broadcast of this film, with its message of both urgency and hope. Joanna Lumley and the Human Swan is produced and directed by Ian Leese. The film is dedicated to Dan.
Orkney – Britain's Green Islands sees Julia Bradbury and ITV weather presenter Alex Beresford travel to Orkney to witness how the islands are making progress towards a greener future, harnessing the extreme weather on land and on sea. It is filmed, produced and directed by Kim Lomax, who will be participating in a COPtimism panel about the charms and challenges of green film-making.