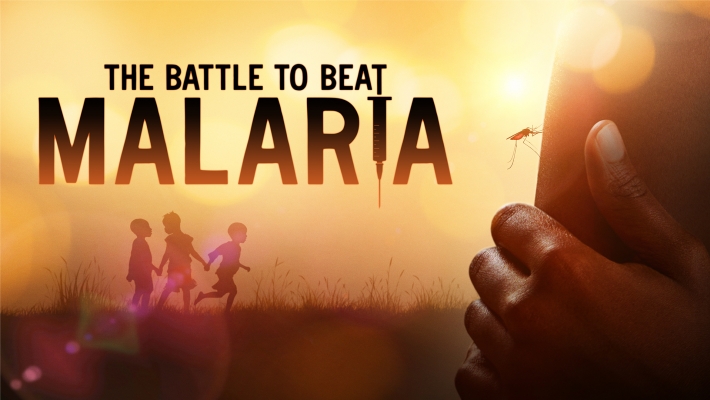 NOVA "THE BATTLE TO BEAT MALARIA" FOLLOWS THE QUEST TO CREATE A LIFESAVING VACCINE FOR ONE OF THE WORLD'S DEADLIEST DISEASES
New one-hour film — featuring unprecedented access to the scientists behind the R21 vaccine — documents the vaccine's dramatic journey to W.H.O. approval
Premieres Wednesday, November 15, 2023 at 9pm ET/8C on PBS
Also available in the USA for streaming at pbs.org/nova and on the PBS App
BOSTON, MA; November 10, 2023—The PBS science series NOVA today announced that the new one-hour film, THE BATTLE TO BEAT MALARIA, produced by Wingspan Productions and HHMI Tangled Bank Studios in association with NOVA/GBH, will premiere Wednesday, November 15 at 9pm ET/8C on PBS. The film, which will also be available for streaming at pbs.org/nova and on the PBS App, brings viewers an exclusive behind-the-scenes look at the University of Oxford research team that spearheaded the new R21 vaccine — being hailed as a major breakthrough in the fight against malaria — and its long path from development to approval by the World Health Organization (W.H.O.) in October 2023. THE BATTLE TO BEAT MALARIA tells the dramatic inside story of a new vaccine to fight against one of humanity's oldest and most devastating plagues. It also offers an intimate look at the scientists, doctors, health care workers, and trial participants battling this deadly disease.
At the dawn of the 20th century, a physician of tropical medicine remarked that the future of humanity would be decided by one battle: man versus mosquito. And in all of medical science, there has been no longer or tougher battle than the fight against mosquito-borne malaria. It is one of the world's deadliest diseases. More than 200 million people fall ill and 600,000 people die of malaria every year — most are children under five years old. But now, researchers in the United Kingdom, Tanzania, India, and elsewhere are on the brink of a breakthrough: a safe, highly effective, low-cost vaccine that could revolutionize the fight against malaria.
"THE BATTLE TO BEAT MALARIA is a timely unraveling of the science behind an extraordinary quest," says NOVA Co-Executive Producer Julia Cort, "but it's also a deeply moving story about the scientists, researchers, and clinicians who have dedicated so many years towards improving and saving human lives."
"This is the raw and emotional inside story of a decisive moment in science's struggle to save millions of lives and turn the tide against one of the biggest killers of humanity," said Archie Baron, Executive Producer for Wingspan Productions. "This film introduces viewers to the scientists and the human story in a way that major breakthroughs like this so profoundly deserve, without shying away from the science at the heart of the matter."
Effective vaccines against malaria have been notoriously hard to design. The malaria parasite's complex, multi-stage life cycle means that it is much harder to defeat than viruses like smallpox, polio, and even COVID-19. Today malaria is considered a tropical disease, but until very recently it affected people all over the world, shaping human history — and our very genomes. Thanks to the insecticide DDT and the increased availability of malaria tests and treatments, the U.S. was declared malaria free in 1951; the disease was essentially eliminated throughout the Western world around that same time. After that, funding for research was drastically cut, and malaria was all but forgotten in most wealthy nations.
Yet outside these countries it remains an ever-present challenge. THE BATTLE TO BEAT MALARIA takes viewers to Tanzania, where nine out of ten people live in the country's malaria zone. And it is the youngest children, far less able to fight off infection, who are most at risk. Across the country — and much of the African continent — malaria costs lives and affects livelihoods, undermining the potential of entire generations.
In the film, viewers are introduced to Dr. Ally Olotu, of the Ifakara Health Institute, a veteran malaria researcher who is working on the country's medical frontline. Dr. Olotu is thrilled to be part of an international team working on a new malaria vaccine. Other key members of the team are based at the University Of Oxford, where they found earlier success with the Oxford/AstraZeneca COVID-19 vaccine. Led by Sir Adrian Hill, Director of the University's Jenner Institute and lead immunologist Katie Ewer, the team has been working for the last 13 years on a malaria vaccine called R21-Matrix M.
R21's goal is to activate the body's immune defenses so they are ready to attack the parasite at its most vulnerable moment: just after it enters our blood. When an infected female mosquito bites a person and injects immature parasites into their bloodstream, there's a very brief window of time before the parasites infect the liver, launching the second, potentially deadly stage of infection. During this narrow window, most individuals' immune responses are not prepared to defeat the parasite. But the parasite does have an Achilles' heel. In order to invade the liver, it relies on a coating called the circumsporozoite protein (CSP). The R21 vaccine is built from CSP protein, inducing the body to produce an army of antibodies designed to neutralize the parasite. R21's predecessor — a pioneering vaccine called RTS,S — uses the same strategy. RTS,S was approved for use in 2021 — the very first malaria vaccine to gain W.H.O. approval. But so far supply has been limited, and it is relatively expensive to produce.
THE BATTLE TO BEAT MALARIA explores the years of painstaking lab work that eventually led to a vaccine design yielding promising antibody responses and early trials reporting remarkable protection against malaria; first in mice and later in healthy adults. It documents a clinical trial in very young Tanzanian children from the perspective of their families — and the scientists who are racing to protect them, including trial lead Dr. Mehreen Datoo. Cameras roll, capturing moments of high emotion through the final trial phases. The largest of these, a $20 million effort to vaccinate nearly 5,000 children, yielded impressive results: R21 was between 68% and 75% effective in preventing clinical malaria cases, upholding earlier evidence that it is the first malaria vaccine to meet W.H.O. targets for the year 2030.
The film also takes viewers to the Serum Institute of India, the largest vaccine manufacturer in the world and the project's key trials and production partner. In a high-stakes bet, the Institute, led by CEO Adar Poonawalla and its chief scientist Dr. Umesh Shaligram, commits to producing tens of millions of doses of the new, low-cost vaccine, even before W.H.O. approval. Meanwhile, researchers are racing to provide W.H.O. with the data that could secure that approval.
Finally, the news that the team has been awaiting finally arrives: the W.H.O. has approved R21 for use in children, triggering the release of critical donor funds and opening the door to its intended rollout in 2024. The filmmakers capture the emotional reactions of the team, including Hill, Ewer, and Olotu. They know that this vaccine could offer a lifeline for millions.
"This is an important story about a game-changing scientific breakthrough, and we are thrilled to be working with director Catherine Gale and Wingspan Productions to bring it to life," said Executive Producer and Head of HHMI Tangled Bank Studios Jared Lipworth. "Gale's deep understanding of the science and intimate storytelling style provides a captivating window into the way vaccine development works. Given our shared commitment to science communications and education, we're also pleased to again be partnering with NOVA to bring the film to national audiences."
THE BATTLE TO BEAT MALARIA premieres Wednesday, November 15 at 9pm ET/8C on PBS and will be available for streaming at pbs.org/nova and on the PBS App, available on iOS, Android, Roku streaming devices, Apple TV, Android TV, Amazon Fire TV, Samsung Smart TV, Chromecast and VIZIO. PBS station members can view many series, documentaries and specials via PBS Passport. For more information about PBS Passport, visit the PBS Passport FAQ website.
THE BATTLE TO BEAT MALARIA is produced by UK-based independent production company WINGSPAN PRODUCTIONS and HHMI TANGLED BANK STUDIOS in association with NOVA/GBH. It is produced and directed by Catherine Gale (Race for the Vaccine). Executive Producer for Wingspan Productions is Archie Baron (Race for the Vaccine). Executive Producers for HHMI Tangled Bank Studios are Jared Lipworth and Sean B. Carroll. Executive Producers for NOVA are Julia Cort and Chris Schmidt.