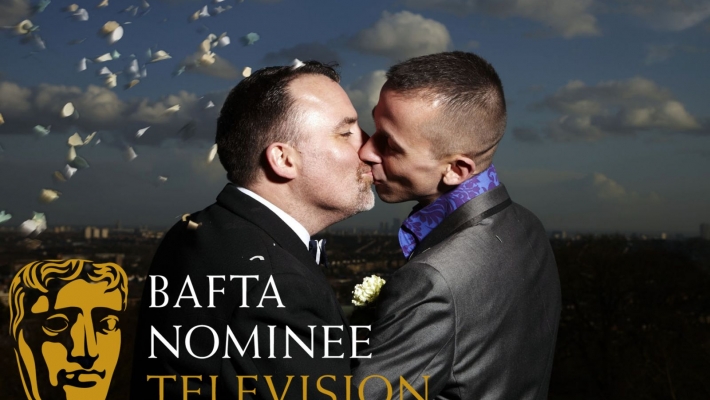 On Saturday 29th March 2014, same-sex marriage became legal in England and Wales and Channel 4 marked the historic milestone by offering viewers front row seats at one of the first gay weddings. But this was an extraordinary ceremony in more ways than one. Grooms Benjamin Till and Nathan Taylor wrote and staged their entire wedding as a musical – with sung vows, sung readings, a singing registrar and show-stopping ensembles featuring the whole congregation of family, friends and special guests. Even the grooms' mums sing a heartfelt duet.
Stephen Fry introduced and narrated Our Gay Wedding: The Musical, which also featured special performances from The Feeling, Andy Bell, The London Gay Men's Chorus and West End leading lady Hannah Waddingham, plus messages and appearances both sung and spoken from the likes of Boy George, Will Young, Jon Snow, Paul O'Grady, Lesley Garrett and Olivia Newton John.
This extraordinary TV musical was not only a celebration of Benjamin and Nathan's relationship, but also gave witness to a major step forward for gay rights, with very personal parts of the service interwoven with songs reflecting on the historical journey to this point, tributes to the other gay and lesbian couples around the country getting married at the first opportunity and a reminder of the struggles faced by those in countries where homosexuality is still a crime.
So it was a beautiful love story. A real wedding. A landmark moment in history. AND a completely sung-through musical.
Royal weddings happen once every generation or so. But with Ben and Nathan's wedding, we witnessed something truly historic – and also utterly original because everybody sang.
Benjamin is the composer of several documentary musicals including Channel 4's 'A1: The Road Musical' and Nathan is a musical theatre performer and veteran of many West End shows.
Benjamin and Nathan said: "We've been together for nearly 12 years, and never thought we'd get the chance to get married, for real. Doing what we both do for a living has meant that we've spent our entire lives expressing emotion through song, so getting married in a musical, particularly one that we're writing ourselves, felt like the most natural thing in the world."
John Hay, Commissioning Editor, Arts, said: "We are proud to be marking a huge milestone for gay rights – a cause that has long been close to Channel 4's heart. I'm enormously grateful to Benjamin and Nathan for sharing their day with us, and for the talent, creativity and generosity they're bringing to this amazing piece of work."