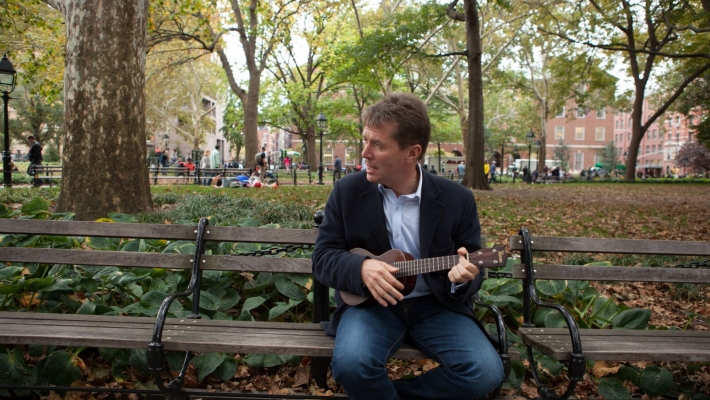 '20s and '30s New York produced', says Nicky, 'the best songs ever written'. In Wingspan Productions' first film for the Perspectives strand, Nicky journeys to Manhattan to explore his lifelong musical passion for the golden age of song-writing when the music of packed Broadway theatres fused with the sounds of Harlem's raunchy jazz clubs.
Nicky sings, plays the piano and strums his ukulele as he unpacks six timeless love songs that he believes 'map every contour of the human heart in just three minutes.' And in celebrating the dazzling lyrics, unforgettable tunes and thrilling rhythms, he also discovers the troubled geniuses who wrote them: from George Gershwin, the gifted prodigy son of Jewish immigrants, to Fats Waller, Harlem's larger-than-life lothario, and Cole Porter, sparkling socialite with a secret double life.
Along the way Nicky meets a colourful cast of characters: singer/songwriter Annie Lennox who shares Nicky's passion for this music; hip hop artist Baba Brinkman who raps Lorenz Hart's 1926 lyrics to Manhattan; multi-platinum selling singer Michael Feinstein, close personal friend of Ira Gershwin; jazz singer, Harlem resident and Fats Waller enthusiast Michael Mwenso; David Lahm, son of the first successful female lyricist Dorothy Fields; and 81 year-old cabaret singer Marti Stevens, close friend of the late great Cole Porter.
Nicky's six chosen songs are:
'Manhattan' - Richard Rodgers and Lorenz Hart's witty and playful 1925 tribute to a young couple falling in love
'The Man I Love' – George and Ira Gershwin's haunting and bluesy early torch song
'Ain't Misbehavin' – Fats Waller's playful and ambiguous 1929 theme tune of naughty Harlem
'Night and Day' –1932 classic of passion beneath-the-surface which Nicky plays on Cole Porter's own piano
'The Way You Look Tonight' – written for Fred Astaire to serenade Ginger Rogers in the 1936 hit comedy 'Swing Time'
'The Night we Called It a Day' –the ultimate break-up song, written for Frank Sinatra in 1942