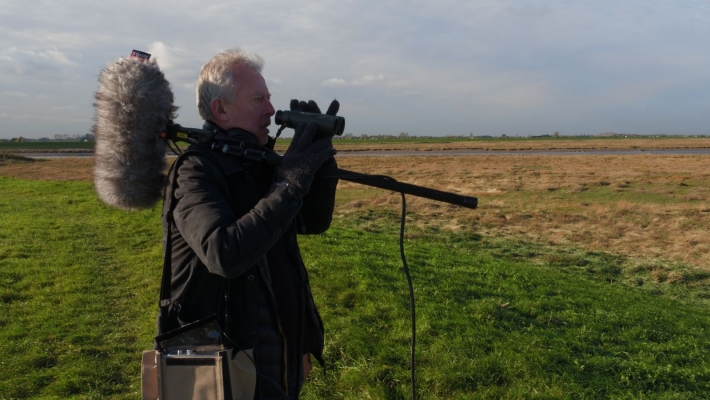 There is no walking without weather. It marks all experiences of being outdoors – for better or for worse.
For writer, birdwatcher and radio producer, Tim Dee, the weather is never an innocent bystander – especially the wind. In any walk that he makes – to watch birds, to record sounds, to reflect on the landscape and the natural world – the wind is an active agent. It carries birds, it buffets microphones, it brings and takes away much of what moves and shapes his life.
In this poetic, mesmeric film, documentary filmmaker Richard Alwyn follows Tim Dee on a walk along the vast open marshland of the Lincolnshire Wash, as he embarks on an idiosyncratic mission to capture the elusive sound of 'pure' wind. On the way, under extraordinary skies and dramatic light, Dee reflects on landscape and on walking, on birds and on writing, and on the 'wild track' of life – wind, bringer of birds into his world and with that, joy and inspiration about the business of being alive.
The problem, of course, is that recording the sound of wind is a quixotic quest because "in some ways, it doesn't exist as a sound; [....] what we think of as the wind is the sound that the wind is making as it rubs over the surface of the world", says Dee. Undaunted, Dee walks to the lone high spot on the terminally flat Wash, there to raise his boom in an attempt to capture the wind as it arrives fresh out of the North, pure and untouched, new and exciting. "I'm probably the first thing this wind has hit for about 1000 miles or so – and it's telling me so…"
Tim Dee was born in Liverpool in 1961. All his life he has been watching birds, and almost all his professional life he has been making radio programmes for the BBC, mainly about the arts (especially poetry). He is one of the luminaries of current British nature writing, author of 'The Running Sky' (2009) and 'Four Fields' (2013). Andrew Motion has said 'The Running Sky has the makings of a classic... beautifully written, extraordinarily vigilant, and very moving... we learn a lot about ourselves as well as the fellow creatures flying through, over and around our own lives'
Richard Alwyn is an award-winning documentary filmmaker. He recently made two highly-acclaimed trilogies for BBC Four, 'Catholics' and 'Cathedrals', and was one of the directors of the seminal BBC Modern Times series in the 1990s where his films included 'The Shrine', a portrait of the grieving masses who attended Kensington Palace Gardens after the death of Princess Diana. His 2005 film, 'The Beslan Siege', won the prestigious Prix Italia.