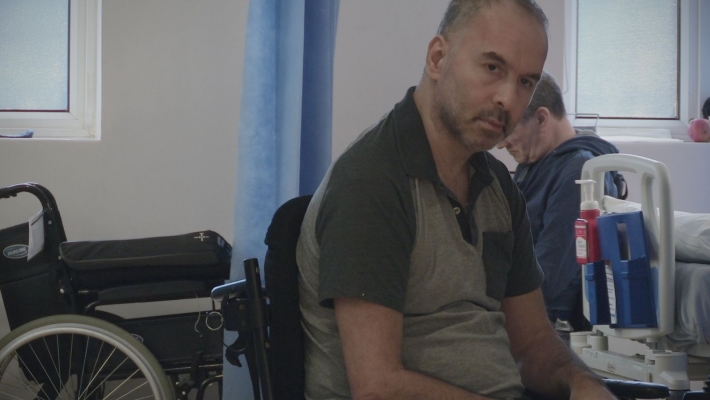 Imagine a world in which you can think but cannot speak. For many stroke survivors, like former football star Junior and landlord Barry, this nightmare is a reality.
Inspired by the experience of his brother-in-law, filmmaker Richard Alwyn has made an intensely moving, personal film about language and its loss. Alwyn's brother-in-law, journalist Dennis Barker, had a stroke in 2011 which left him speaking a bizarre, fluent gibberish – just one manifestation of the condition 'aphasia' in which people lose or have a severely impaired ability to use language.
SPEECHLESS tells the powerful stories of two men who can no longer take language for granted. Much of the film is made on the Neuro Rehab Unit of the National Hospital for Neurology and Neurosurgery in London's Queen Square. There, Alwyn meets 55 year old Barry who has been in hospital for 4 months since a stroke left him barely able to speak. Courageous and determined, Barry's personality constantly triumphs where his language fails. And two years after his stroke when just 35 years-old, former Premier League and international footballer Junior Agogo is still visiting the Unit as he battles to find his way in the world with depleted language. "I had thoughts but I'm saying, where was my voice? I was baffled, man."
SPEECHLESS raises questions that straddle philosophy and science. Can we understand the world if we don't have language to name and describe it? Can we think without language? How much is our identity wrapped up in language? These questions are at the heart of conversations that Alwyn has with clinicians and therapists working to get Barry and Junior back into the world.
SPEECHLESS is fascinating and moving, upsetting and uplifting in its depiction of the isolating and estranging condition, aphasia.