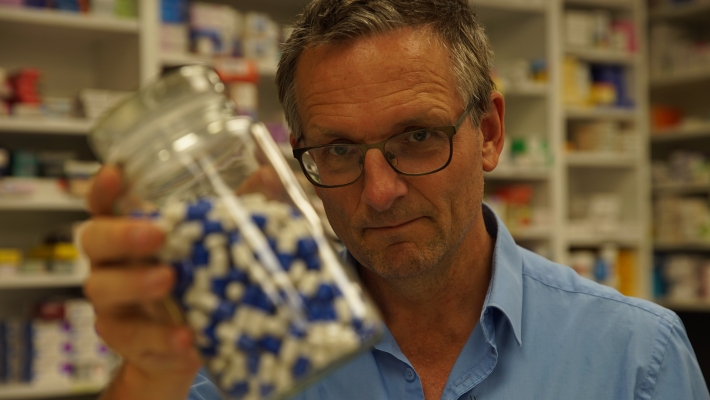 Addicted to Painkillers? Britain's Opioid Crisis
In America it's an epidemic. Now new evidence raises concern about the UK's use of prescription opioids. Dr Michael Mosley goes on an immersive journey for Horizon to ask what can be done about it.
The opioid epidemic has devastated America. But what's the situation here? A new report from Public Health England raises serious concerns about Britain's own relationship with painkillers. Dr Michael Mosley embarks on an immersive journey to Britain's opioid frontline and meets patients struggling with addiction and GPs fighting a constant battle to help those suffering from chronic pain. He also uncovers worrying evidence of people abusing over-the-counter opioids and discovers how easy it is to buy strong opioids online.
Nearly six million people in England and Wales were prescribed an opioid last year. Michael wants to uncover how and why we're consuming twice the amount of opioids as twenty years ago, especially when the scientific evidence he encounters disturbingly suggests that for the majority of people taking them for chronic pain, these drugs mostly don't even work.
Though a vital tool in our doctors' armoury to combat acute pain and in cancer and end-of-life care, the Public Health England report revealed that more than half a million people have been on opioids for more than three years. Michael cautions that people taking these drugs should not suddenly stop taking them. Nevertheless, as he discovers, long term or high dose use does leave them exposed to greater risk of side effects including dependency, addiction and even accidental death by overdose.
So how much do people on the ground really know about these powerful painkillers, which can be many times stronger than heroin? On his travels, Michael meets Karen in Hastings who now believes her five years on increasingly strong opioids 'turned her into a zombie'. But he also encounters Brenda in Salford who thinks the morphine she has taken for fifteen years to help with her excruciating back pain is the thing that makes her life just about bearable. And he spends time with Vicki whose 50+-a-day over-the-counter painkiller habit led to overdose and near death before she finally admitted her addiction and started detox.
So how did we get here? Michael discovers one root of our current crisis can be traced to a single100-word letter in a 1980s medical journal. This is the original source (cited more than 600 times in the literature which followed) of claims that opioids given to people in pain couldn't be addictive. Michael admits he himself was taught this at medical school. Yet we now know, it's wrong. Michael shows how this false conviction led to our doctors following national guidelines for decades and offering opioids in increasing strengths to their patients.
Michael's journey takes him to Oxford to learn more about the biology of pain. He volunteers for a (painful!) experiment run by Professor Irene Tracey that exposes the fundamental difference between acute and chronic pain and begs important questions about treating these different conditions. He also comes across exciting new science which reveals a tantalising link between mental wellbeing and the experience of pain - offering potential hope for the future on how to tackle pain without drugs.
As many as 28 million Britons endure chronic pain – and if we're to kick what seems like a dangerous national opioid habit, Michael believes that the critical issue is deprescribing. Millions now require help coming off opioids and drug-free alternatives to them. For Michael this is nothing short of a challenge as important as the fight against cancer and heart disease.
Contributors to the film include experts in pain Dr Jane Quinlan and Dr Cathy Stannard, Chair of the RCGP Professor Helen Stokes-Lampard, Chief Exec of the General Pharmaceutical Council Duncan Rudkin, Salford GPs Dr Nicholas Browne and Dr Tom Hodson, pharmacist Akash Patel and Hastings addiction worker Rob Ralph.