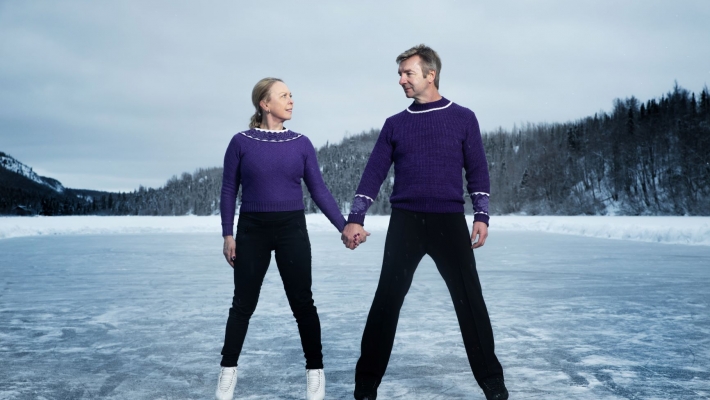 Jayne Torvill and Christopher Dean embark on an extraordinary quest to fulfil a life-long dream.
The Olympic champions have spent a remarkable 45 years on the ice together – but astonishingly they've never skated in the great outdoors. Jayne and Chris recall how as children they were inspired by a mural in Nottingham ice rink which showed two skaters outside on a frozen mountain lake. Ever since then, they've dreamed of skating open and free in nature, rather than round and round in circles on artificial ice. Now they've come to Alaska to make that dream finally come true.
Alaska is one of the best places in the world to go wild skating. Each year when lakes freeze and the snow has not yet come, locals take to the ice to explore. But luck is against Jayne and Chris – though they timed their visit for November, which should be peak skating season, in Alaska's hottest year on record there is not a lot of ice to be found.
So following a first joyous skate on a frozen lake, Jayne and Chris's journey into the spectacular Alaskan wilderness becomes a hunt for wild ice. Travelling by train, husky sled and even helicopter, they seek out ice in all its forms, skating whenever they can. They explore the stunning blue of an ancient glacier; meet a champion ice carver, take part in an explosive science demonstration, and make their first foray into ice hockey. And on one particularly chilly day, when it's approaching minus 20 degrees Celsius above the ice, Chris bravely takes the plunge underneath, diving into a frozen lake to get a unique and extraordinary view of the ice from below, while Jayne skates directly above.
As their adventure progresses, they discover how the ice is threatened by the changing climate, and how much its loss is already affecting the people and wildlife of Alaska, and will eventually affect us all.
Moved by what they have learned, and inspired by the stunning landscapes around them, one magical misty dawn Jayne and Chris finally discover the perfect spot to dance a special new version of their iconic Bolero – a beautiful tribute to our precious, fragile planet. It's a genuinely 'once in a lifetime' moment.
The film ends with a call to action – and an invitation to viewers to help look after the planet by reducing their own carbon footprints, and directing them to more information available at itv.com/footprint.
Stephen Fry narrates.