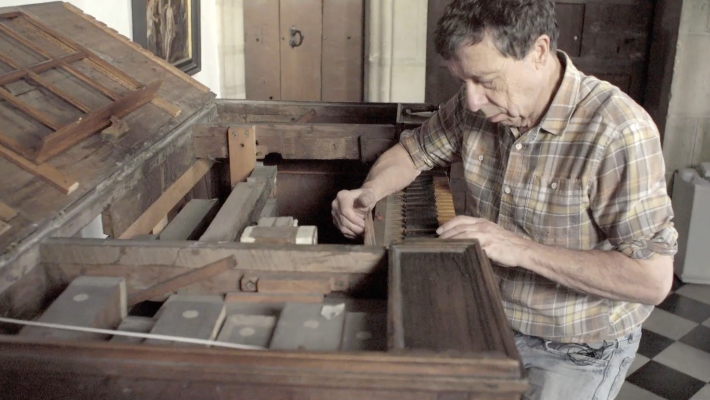 Organ Stops - Saving the King of Instruments is a documentary feature film about the crisis facing Britain's pipe organs. One step ahead of the bulldozers, a small band of enthusiasts is fighting to save precious instruments that were until recently the glory of their communities.
James Dawson's feature documentary is both an elegy to a disappearing musical world and a story of renewal and hope. In the UK an hour-long version of the film narrated by passionate organist Huw Edwards was broadcast on Christmas Eve 2022.
Brought to Britain probably by the Romans 2000 years ago, pipe organs represented a high watermark of British craft and sacred music throughout the 18th, 19th and 20th centuries. Today these beautifully made and historically valuable instruments are being scrapped in their hundreds.
Martin Renshaw has spent his life studying and building pipe organs; this poignant insight into a fast-vanishing world follows him as he travels around the country attempting to rescue them. As he say "It's a real crisis. At least one British church closes each week and half their organs are worth saving."
Valuable instruments are plucked from waiting skips: in Winston, County Durham, a beautiful organ with a rococo style case is saved. In another former mining village Martin discovers a fine organ whose salvage and "rebirth" becomes the redemptive story at the heart of the film. Eventually it's brought to a largely Afro-Caribbean inner city church where it finds a happy home among a congregation for whom the sound is a reminder of the pipe organs they listened to in their youth, that had been shipped to Britain's colonies in the days of Empire.
The backdrop to these stories is the dramatic decline of a Christian culture that's been the centre of life in many small towns and villages in the UK. Martin meets one extraordinary stalwart still hanging on against the odds. Sprightly 95-year-old Blanche Beer, who has played the organ at her local church for eighty years, faces the loss of her church and her precious instrument. Her vivid description of life as a pit-village organist is a wonderful insight into a musical world that has now all but gone.
As James discovers, closed churches are not the only threat pipe organs face. Electronic organs – which use speakers rather than hundreds of pipes and can't fill a space with sound anything like the real thing - lure cash-strapped congregations away from saving the organs they have in favour of a cheaper alternative.
Yet despite these setbacks organ enthusiasts are fighting hard to save what they love. Marc Ogier's a Mancunian sound engineer who rebuilds organs in his back bedroom from pipes bought on eBay; professional organ builder Dominic Gwynn specialises in resuscitating near-dead historic instruments - we watch as his team meticulously rebuild Ireland's oldest organ the 1684 Trinity College instrument. And avant-garde musicians like Claire Singer creating a new kind of acoustic music using pipe organs and in doing so attracting new audiences. Perhaps there's hope yet for one of the oldest instruments in the world.
Organ Stops is filmed, produced and directed by James Dawson and made in association with Wingspan Productions.
To rent or buy a copy of the film please go to https://vimeo.com/ondemand/organstops