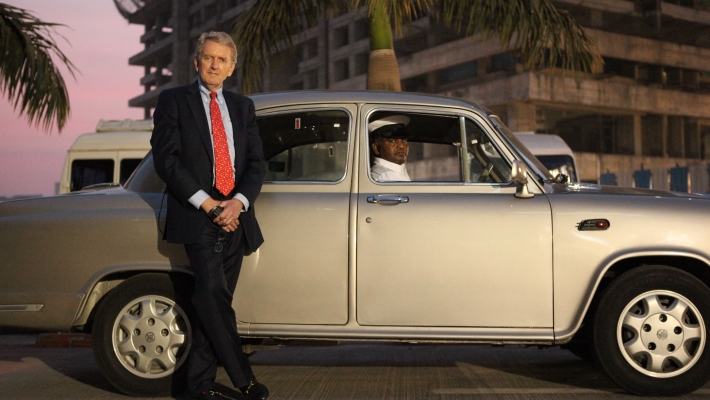 In this landmark series, Sir Christopher Meyer travels to six of the greatest cities in the world on the trail of their top movers and shakers. City by city, Sir Christopher will meet some of the world's most powerful, wealthy, famous and influential people to discover how their different power networks really operate.
In MUMBAI, Sir Christopher meets the world's biggest film-star, gains extraordinary access to its secretive diamond network and hooks up with India's richest woman.
Sir Christopher returns to his old haunt, MOSCOW, discovering a city still in the thrall of the KGB and beholden, despite mounting opposition, to one man, Vladimir Putin.
Sir Christopher says "in our globalised world, don't make the mistake of thinking that everywhere is now the same. Each city marches to its own tune and the world's most powerful people are not all cut from the same cloth." So these films are cultural portraits of six very different societies.
In NEW YORK, Sir Christopher, formerly Britain's Ambassador to the USA, hits Fashion Week, Wall Street and the bizarre demi-monde of reality television, before hobnobbing with New York's all-powerful mayor, billionaire Michael Bloomberg.
In ROME, Sir Christopher meets the Pope's right-hand man and has an audience with the only Briton, apart from the Queen herself, to be a Head of State. He also visits the man with arguably the world's riskiest job, leading Italy's war on the Mafia.
As a diplomat, Sir Christopher's job was to understand and cultivate networks abroad and work out the best way to get into the minds of the people who really rule the roost. In Networks of Power he grapples with the dark Machiavellian heart of politics, witnesses up close the lives of the immensely rich, and finds real clout in surprising, unexpected places worlds away from palaces, parliaments and billionaires' pads.
Sir Christopher is in LOS ANGELES for the Oscars but finds Hollywood in something of a crisis. He cruises LA's mean streets with an ex-gang boss, goes head-to-head on air with the city's hardest-talking shock jocks and sees how Latinos are reclaiming this city.
And what of Sir Christopher's home, LONDON? Nearly 4 out of 10 Londoners were born outside the UK and Meyer's encounters with Russian oligarchs, Somali elders, the Qatari-funded Shard's developer and Mayor Boris himself help Meyer conclude London's global culture makes it capital of the world.
Throughout Networks of Power, Sir Christopher applies his unique brand of quick-witted, intelligent and straight-talking authorship, not to mention an accomplished diplomat's cunning, to quiz the world's top power brokers on how they really operate. Expect funny and surprising encounters, packed with observation and insight – and sharp portraits for television of the people and places that really matter.