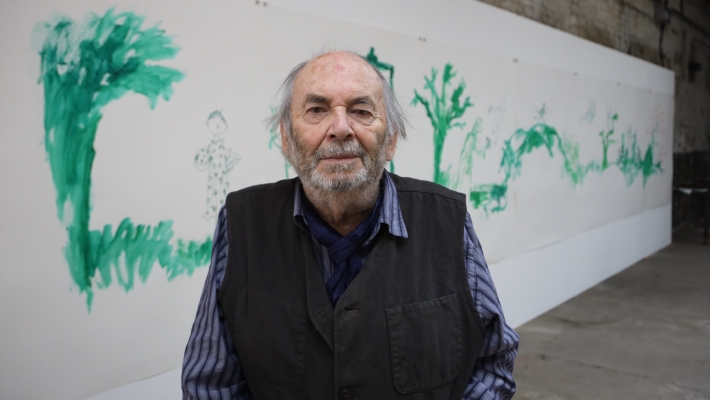 In this celebration of one of Britain's best-loved artists, the illustrator and author Sir Quentin Blake tells the story of his 70 year long career, in his own words - and with his own pictures!
He is filmed creating an extraordinary new work especially for this documentary: a canvas 30 feet long and 7 feet high, on which self-portraits and classic characters emerge in the instantly recognisable, energetic and ebullient style that's taken root in the imaginations of successive generations of children and parents.
The first book illustrated by Quentin Blake was published 61 years ago. Over 500 volumes later, and now aged 88, he's still hard at work, drawing every day and determined to break down the barriers between illustration and 'fine arts'. As he looks back for director Peter Sweasey's playful film, Blake shares his pleasure in the blank page, the scratch of a quill, and the enjoyable chaos and mischief of childhood.
This is the first documentary to be dedicated to Quentin, and features contributions from some of his closest collaborators and biggest admirers – among them David Walliams, Michael Rosen, Lauren Child, Chris Riddell, Steven Appleby, Dapo Adeola, Josie Long and Emma Chichester Clark. There are also readings of works Blake has illustrated, performed by Peter Capaldi, Joanna Lumley and Ore Oduba. All of these figures have been magically woven into Blake's unique hand-drawn illustrations, and are seen rubbing shoulders with the likes of Mr Magnolia, Zagazoo and The Boy in the Dress.
There are fascinating insights into his famously fruitful collaboration with Roald Dahl, who once declared that "when people picture the BFG, what they see is Quent's drawing" (though as Blake reveals in the film, his first attempts at picturing the iconic giant were rejected by the sometimes temperamental author.) Roald's widow, Felicity, gives her perspective on the partnership in a rare new interview.
This documentary also proves there is much more to Blake than Matilda and The Twits - and shows he is an artist who is loved by people of all ages. Blake didn't go to art school - he studied English at Cambridge - but fellow artists now place him firmly in the tradition of master draughtsmen like John Tenniel and Honoré Daumier. He's written as well as illustrated dozens of books, and while he may still be best known for beloved children's characters like Mrs Armitage and the Dancing Frog, he's more recently produced art for galleries with more adult themes. The film visits the Hastings Contemporary Gallery to see a large mural entitled We Live in Worrying Times, which was inspired by Picasso's Guernica and takes as its subject the plight of modern refugees.
Blake is a great believer in the healing power of art; in some of the most moving sections of the film, we hear from patients and staff who have found solace and inspiration in the tender cheerfulness of Blake's work for a variety of healthcare settings - including a maternity unit, and a clinic for people with eating disorders.
And over the past two decades, Quentin has led fundraising for a public space that will exhibit all types of illustration, and promote understanding of the often-overlooked artform. The new permanent site for this endeavour - a historic former pumping station in London's Clerkenwell - is where he was filmed creating his giant picture for the documentary. Formerly known as the House of Illustration (and previously found at a temporary Kings Cross site), the Quentin Blake Centre for Illustration will open in autumn 2022.
Made with unprecedented access to Blake's vast archive, this charming documentary offers a welcome escape for us all into the artist's exuberant and joyful world.