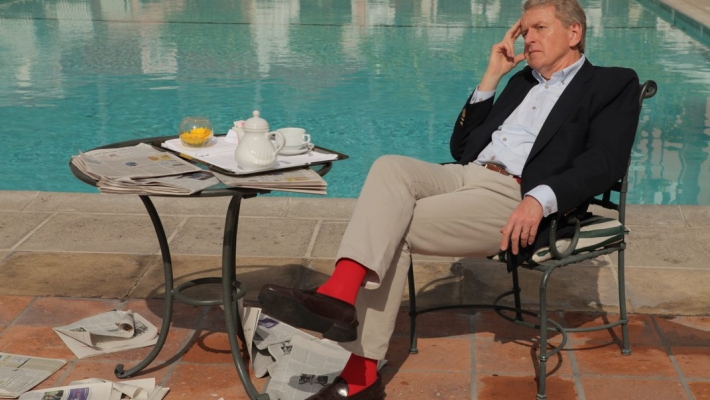 Wingspan are shocked and saddened at the death of Sir Christopher Meyer - truly a man who was 'in the room when it happened'.
A sharp-witted, entertaining, funny, generous colleague and friend who, after retiring from the Diplomatic Service, shared with us his tradecraft - not to mention many mischievous stories - as presenter of our series Getting Our Way for BBC and Networks of Power for Sky.
He presented these films with real panache - red socks flashing - using all his charm, guile and purpose to help explain diplomacy and the levers of power. He helped get us into the West Wing for the film Mortgaged to the Yanks and cut through claptrap replacing it with real insight and seemingly effortless elegance of expression. He hobnobbed charismatically with everyone - from Bollywood royalty and billionaires to Vatican cardinals, trade union leaders and Gen-Z tech gurus. Thank goodness for history and journalism he wasn't the soul of discretion, but instead tremendous company and full of the wisdom he shared. Our thoughts and deep condolences to Catherine and the children.
Helena Braun, Producer/Director of Getting Our Way, remembers:
Sir Christopher was indeed excellent company. Our tiny team travelled the world with him as we explored the history of British diplomacy, and whether we were attending a military ball in Vienna, on a boat across the Bosphorus, in a rural Chinese village or striding Washington's corridors of power, Christopher's positive energy, vast store of anecdotes and love of a terrible pun meant there were big laughs most days. (To the world, he may be Sir Socks, but to us he became 'Sir Fried Rice' – named after a typo on a menu that amused him immensely.) But I also really appreciated that he cared about the stories we were telling, didn't hesitate to share his own knowledge and expertise, and engaged in long discussions about the precise wording of our scripts, helping to ensure the films we made together were both opinionated and intellectually rigorous, as well as entertaining. He enjoyed performing, comfortably treating the camera, as one reviewer remarked, 'like a co-conspirator in a Machiavellian plot'. Of course the obituaries will focus on Sir Christopher's distinguished Foreign Office career, but his death is a sad loss to television too.