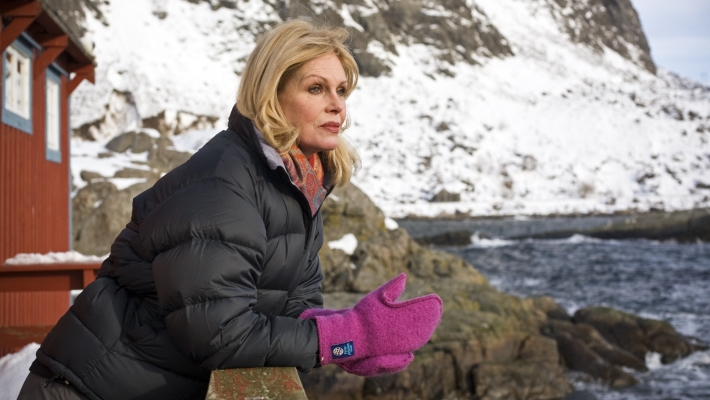 An amazing journey in Norway's far North as Joanna Lumley pursues a lifelong dream to track down the elusive, stunningly beautiful Northern Lights - 'the true wonder of the world,' as she puts it.
Joanna grew up in tropical Malaysia and, as a little girl, had never seen snow or felt cold. Inspired by the fairy tales and picture books of the North, full of trolls and snow queens, she always longed to make this journey. So compelling was the lure of the North that, aged seven, at a fancy dress party in Kuala Lumpur for the Queen's Coronation in 1953, she insisted on going as a Norwegian girl.
Now at last realising her childhood dream, she travels North across the Arctic Circle, up through Norway and finally to Svalbard, the most northerly permanently inhabited place on Earth, where she has to cope with temperatures approaching minus 30°C.
Box of pastels in hand, Joanna's journey takes her from train to boat and husky-sled to snowmobile as she is pulled ever northwards by what she calls "the strongest point of the compass". As the anticipation mounts so does Joanna's trepidation that her Arctic journey will be in vain and she won't get to see the Northern Lights.
It's an epic journey. Joanna explores the romantic fjords of Lofoten. Learning to ride a snowmobile, she speeds across endless expanses of Lapland tundra with a Sami herdsman in search of his reindeer. On nearing the Arctic Ocean, she rests for the night in a hotel made entirely of ice. The fascinating people she meets on her journey north remind Joanna of the reverence in which the mysterious and beautiful Northern Lights are held.
As she seeks this personal Holy Grail, viewers get to see new sides of Joanna, responding with humour and deep emotion to one of the world's most magnificent and extreme environments.
This programme was made by Takeaway Media, Wingspan's parent company which Archie ran with Neil Cameron.